Während unseres Projekts in Südafrika sind ein paar Timelapses der City in Johannesburg entstanden.
THE IDEA
We only have this one planet.
And we are a lot of people living on it; each person having his or her own identity, own ideas, own creativity and own way of living their lives.
We don't wanna get inspired only by the tree in down our street or have a session with our friends living around the corner. We want to reach out, search new adventures and take the chance to experience the spirit of places far away.
Fascinated by the country itself, we chose South Africa as our destination. Our aim is to meet up with same aged musicians and create a new kind of music together.
In our opinion working together with local people is gaining benefits to both sides - we can broaden each other's horizons, reach out to a new musical level and also get inspired and influenced in our music by the countryside and the journey itself. That's our adventure. That's our experiment.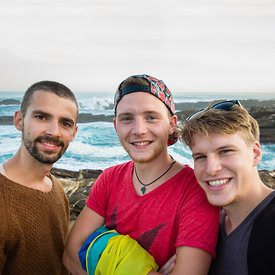 JOSHUA
By discovering his talent for playing drums and percussion in early years he already damaged various pieces of furniture, pans and pots
During schooldays he played in different youth orchestras, mainly in the "Bundesjugendorchester" youth orchestra of Germany. Now he is studying classical percussion in Leipzig, while he's producing a lot of electronic music in his leisure time for various short movies and for dancing. His passion for playing the jazz piano, which Joshua is learning since he's 10 years old, has risen to new levels since he is playing the keys in the Hip-Hop Band H.O.L.D. Now he's doing a multicultural experiment, inter alia, to connect all his various passions, combining different styles of music in South Africa. kristalltheque

JOHANNES
Johannes is a music-student, developed his skills over years and doing that still through being members in orchestras, bands and ensembles. Since 2012 he is studying "classical percussion" at the "Hochschule für Musik und Theater" in Leipzig, Germany. Besides that Johannes plays the drums in the early founded HipHop-band "H.O.L.D" in which Joshua is playing the keys.
He want to be inspired and impressed by all the different styles and genres of the world, that's why he also want to explore the new african electronic music scene.

PIERRE
Pierre is a combination of creative chaos and logical thinking. He just finished his bachelor degree in media economics, where he mainly put his energy into photography, movie, TV, print and audio production projects. His pictures are his language, doesn't matter if on photographs, films or moving pictures he loves to tell stories with his work. This passion is driving him to explore new places, meet new people, share moments and create new stories together.
LIST OF TOURS
01
CAPE TOWN
18-23 aug 2015
Cape Town's unique story begins with the birth of Table Mountain eight hundred million years ago and the discovery of human footprints dating back 117 000 years. Today it's a colourful and harmonious fusion of ethnic diversity and a city overflowing with opportunity. While walking through the streets and meeting the locals, you will fall in love with its natural beauty, creative freedom and incredible spirit. Cape Town is the city where the unexpected is always just around the corner and the beautiful province of the Western Cape lies ready to be explored across the city border. Cape Town will move you, change you and capture your heart forever.www.tourismcapetown.co.za
 
02
GARDEN ROUTE
24-28 aug 2015
Whether you're travelling with parents, aunts, uncles, daughters, sons or all on your lonesome, this scenic stretch of the south-eastern coast of South Africa is bustling with unique activities. Why do we call the area between Stilbaai and Tsitsikamma 'The Garden Route'? It's simple – this is Africa's Garden. www.tourismcapetown.co.za

03
RIDE TO JOBURG
29-30 aug 2015
Now we'll almost be there. While crossing rough nature we surely write some silly traveling songs. Acapella and body percussion, we love you!
 
04
JOBURG
09-20 may 2015
Johannesburg in South Africa is the second largest city in Africa, with more than 3 million people calling this bustling metropolis home. Joburg, or Jozi as some prefer to call it, offers visitors an experience as unique and diverse as the city itself. Whether you are on business, in search of a cultural encounter, an adrenaline rush or simply want to relax and unwind for a few days, the city of Johannesburg has everything you're looking for and more! www.joburgtourism.com
 Visit our Homepage: